Review: The Amazing Spider-Man 2
*Mild Spoilers Alert
Do NOT forget to rate this post when you finish.
Official 'The Amazing Spider-Man 2' Poster.
Better in many aspects than the first installment of this rebooted franchise, 'The Amazing Spider-Man 2' is a satisfying comic book movie that will entertain all lovers of the character and general audience.
"Emma Stone" and
"Andrew Garfield".
"Andrew Garfield".
'Peter Parker'(Andrew Garfield) is getting himself used to his overly-stuffed double life; battling criminals and stopping them as 'Spider-Man' and keeping up with his teenage responsibilities and life as 'Peter'. Graduating from school, he finds it really hard to balance those responsibilities and keeping the love of his life 'Gwen Stacy'(Emma Stone) safe, knowing the promise he gave to her father 'George Stacy'(Denis Leary) to keep her away from his dangerous life-style(in '
The Amazing Spider-Man
'). Also hiding his secret identity from his loving and caring 'Aunt May'(Sally Field) is harder than it actually seems. But things get worse when 'Spider-Man' number one fan electrical engineering 'Max Dillon'(Jaime Foxx) accidentally turns into the dangerous 'Electro' and 'Peter' old friend 'Harry Osborn'(Dane DeHaan), son of Oscorp founder 'Norman Osborn'(Chris Cooper) returns to New York carrying potentially extremely dangerous secrets. With their showing, 'Peter' will discover what is happening behind closed doors in Oscorp and its relation with his parent's death. Will he be able to stop these villains, while maintaining his life and keeping 'Gwen' and his aunt alive? Other major characters include Russian mobster 'Aleksei Sytsevich/Rhino'(Paul Giamatti), 'Peter''s parents 'Richard Parker'(Campbell Scott) and 'Mary Parker'(Embeth Davidtz), 'Harry''s assistant 'Felicia'(Felicity Jones), head of Ravencroft Institute 'Dr. Ashley Kafka'(Martin Csokas), 'Donald Menken'(Colm Feore), 'Alistair Smythe'(B.J. Novak) and "Michael Massee" as the man in the shadows from the first movie.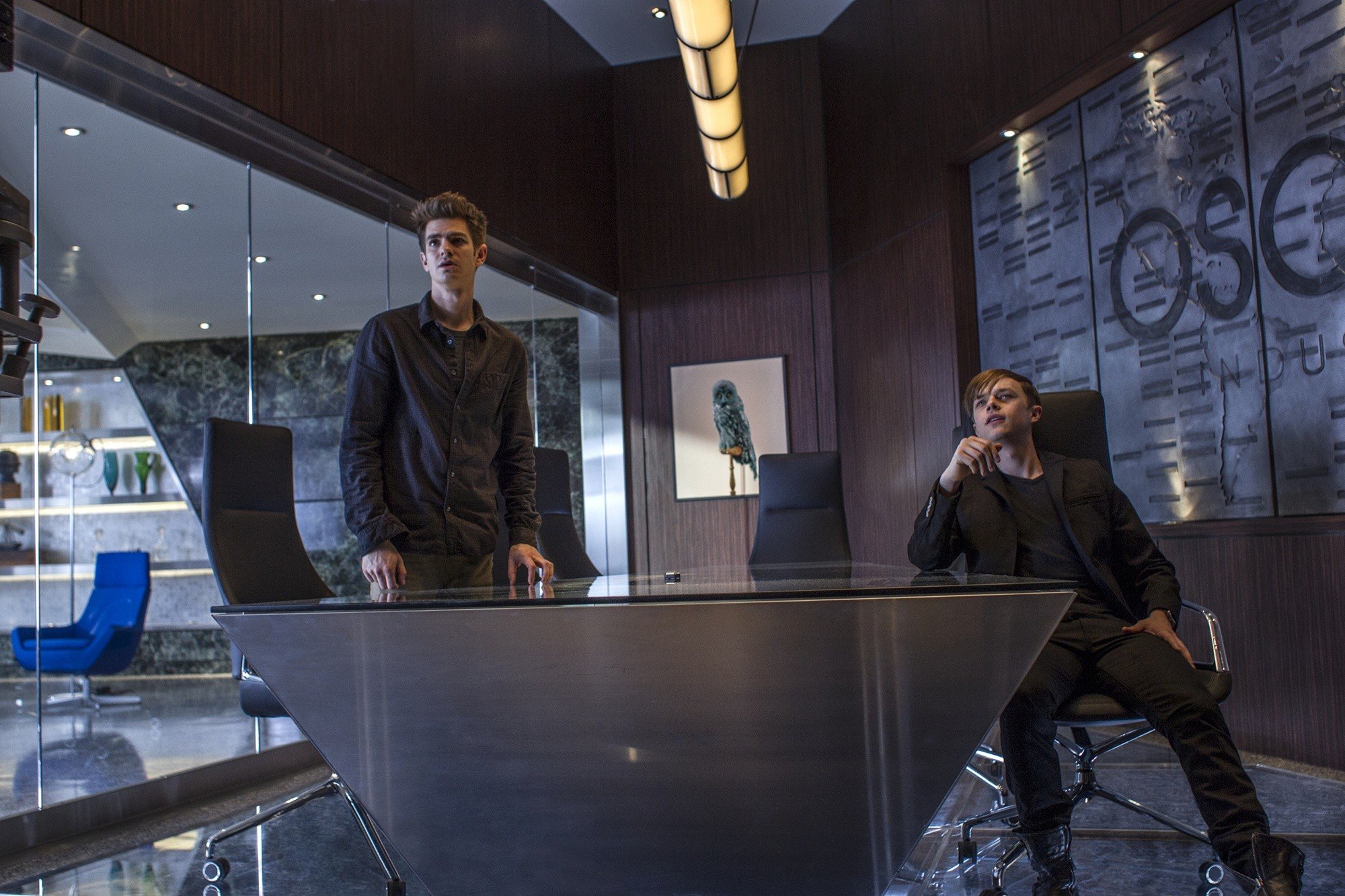 "Andrew Garfield" and
"Dane DeHaan".
"Jaimee Foxx".
Ever since '
The Amazing Spider-Man
' hit theaters, critics and people were criticizing the early reincarnation and reboot of 'Spider-Man'. Especially since at the time it has been only 5 years since '
Spider-Man 3
' hit theaters, with awful response (which was totally justifiable). But the first movie really had potential and many positive aspects that gave people hope that this new rebooted franchise could move on and become better. And for the most part, '
The Amazing Spider-Man 2
' improves on the criticism that the first movie picked up and further improve and take advantage on the many positives that it had. Furthermore, it gave the fans clarification on why subplots were undercooked. When it was announced that there would be three villains, many were afraid about a '
Spider-Man 3
' repeat. However, the director and writers did a very good job balancing these three villains and incorporating them into the movie. Everything in the movie, from the stunts to the music is much bigger and better. Still with this movie, many few clues and elements were added in favor in creating a larger cinematic 'Spider-Man' universe a la Marvel and '
The Avengers
' style. And with the announcement of '
The Amazing Spider-Man
' 3 and 4, as well as a 'Venom' and 'Sinister Six' movie, which in the future will allow the movie to gain even more importance.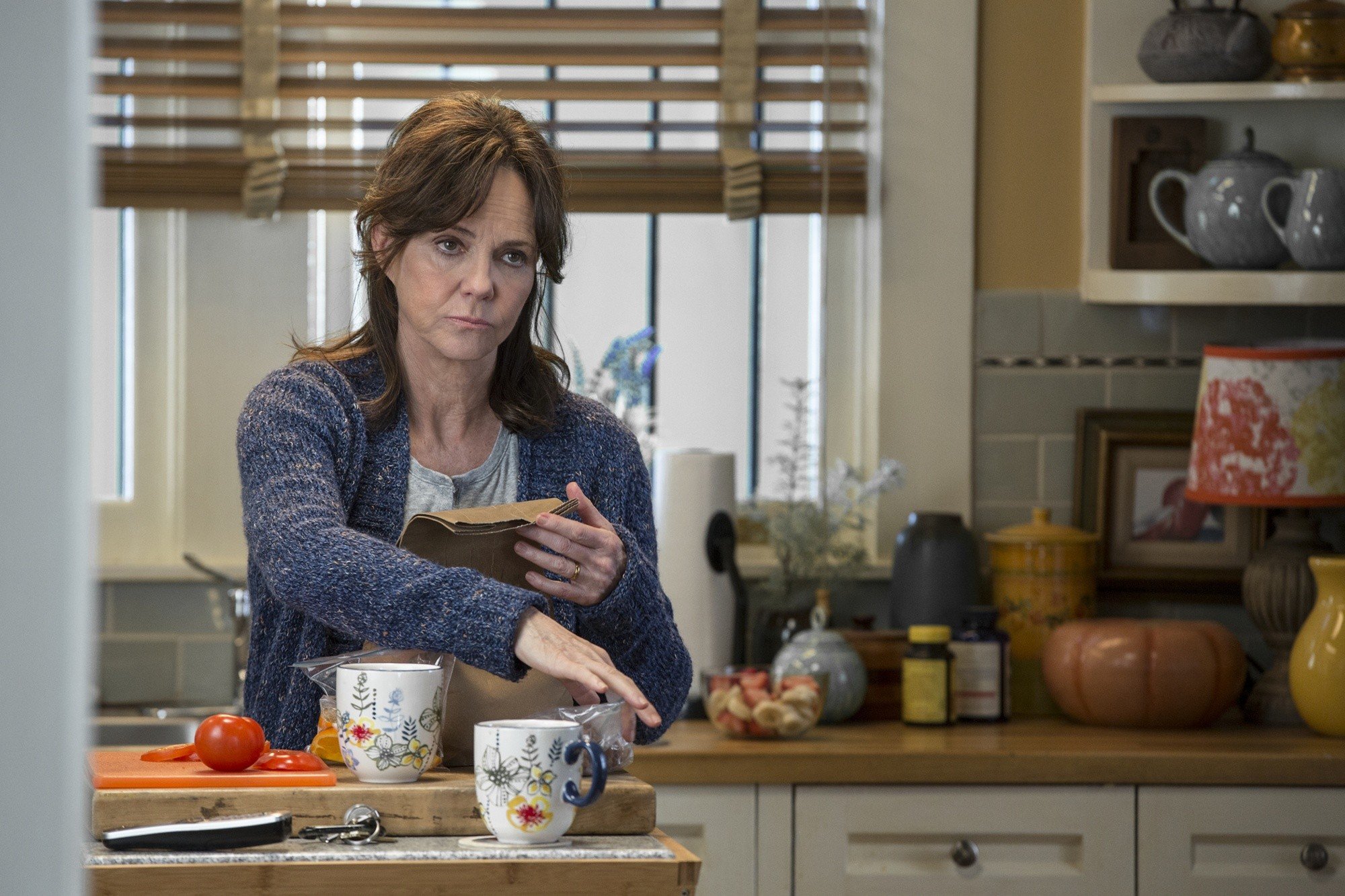 "Sally Fields".
"Paul Giamatti".
Director "Marc Webb" improves so much from the first movie, where he was basically a newcomer to the action/comic book blockbuster movies. With the experience he gained from the first installment, "Marc" basically improved and created a more crafted and well organized world, where everything felt in place within this universe. The balance between the drama/emotional scenes (which is his forte) and the action sequences felt more organic and cohesive than the first movie, but still at certain times you can feel 3 different movies being joined into one. Hopefully in the third installment will further improve on this aspect. "Alex Kutzman"('
Star Trek Into Darkness'
), "Roberto Orci"('
Now You See Me'
) and "Jeff Pinkner"('
Fringe
' TV series) overall gave us a well crafted story, which had good subplots. Still many of these subplots could have had more breathing space, which was put down in favor of setting up for future sequels and spin-off movies. The movie was basically made for the 3D viewing. The visual effects were made without restraints and improved so much the visual aesthetics of the movie. "Hans Zimmer"('
Man of Steel
') co-scored the interesting yet enjoyable score with 'The Magnificent Six'(which includes "Pharell Williams"). The score was tilting toward the musical-action score, which totally help elevate the quality of the experience especially in the scenes that included 'Electro'.
"Jaime Foxx".
"Andrew Garfield".
The beginning of the movie, which was a very unusual energetic looking back scene on what really happened to 'Peter Parker''s parents. Though many questions that in the first movie were left in the first movie unanswered were answered, still mystery could still be felt and hopefully it will be explored in the third one. From then onward, the movie starts with what is happening with 'Peter Parker'. The action scenes and the drama scenes were both on par since they felt interdependent and important for both to exist. The actions sequences were over-the-top, thrilling and exciting to watch. From the beginning chase sequence, to 'Electro' and 'Spider-Man' facing off in Times Square, "Marc Webb" and his visual effects teams left nothing to the imagination. And these sequences justified the 3D inclusion, which is absent many times in movies nowadays. The scenes that made the movie more of a success are "Andrew" and "Emma"'s character interactions, which will be discussed shortly. The climax battle was truly worthy of a climax battle, even though at first one may be fearful of its length. In the end of this battle, comes the incarnation of one of the most iconic and tragic comic book scenes ever made in my opinion. The style and shooting angle that "Webb" took further more highlighted its importance and its emotional importance (which could be felt when silence suddenly was felt once it was shown). The ending was unconventional yet exciting and important both from a narrative and action point of view.
"Emma Stone".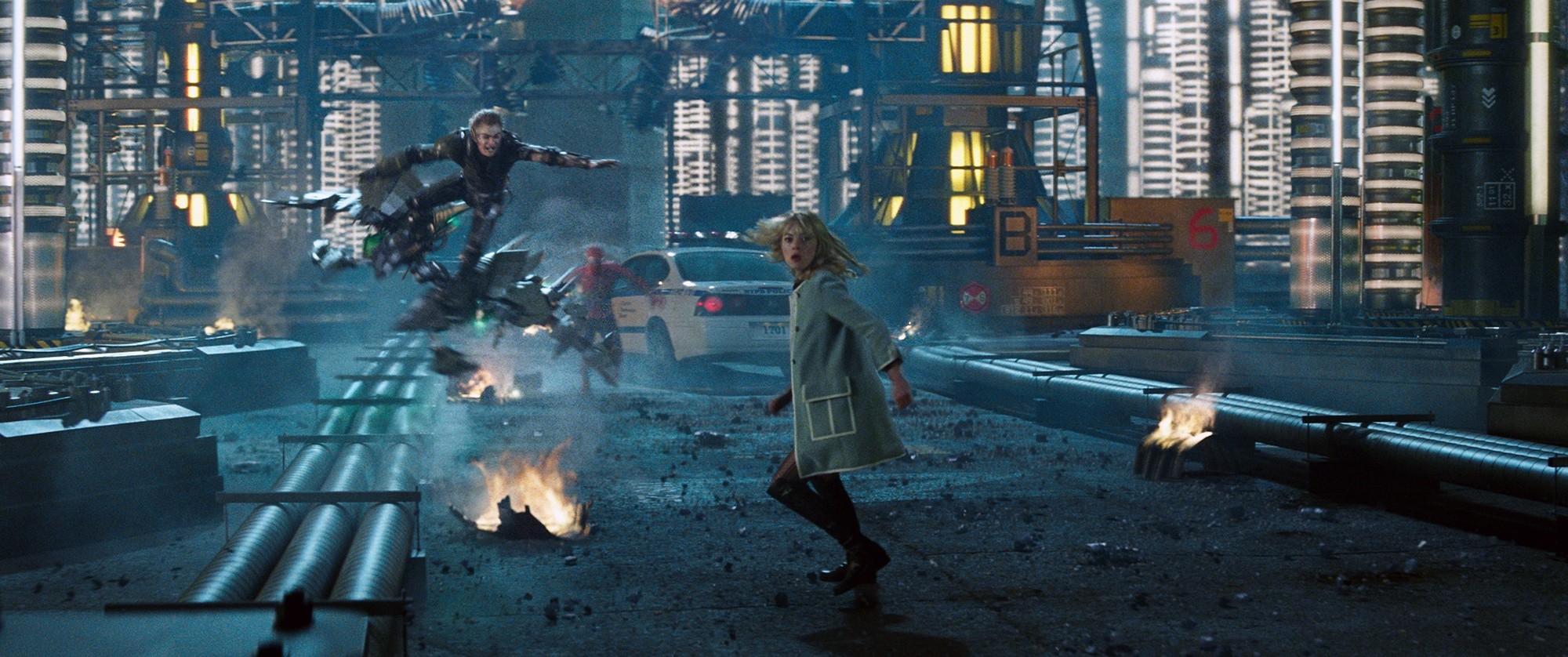 "Dane DeHaan", "Andrew Garfield"
and "Emma Stone".
In general, the cast of this movie mash-up smoothly together and lift the movie, where the subplots may be under-written. "Andrew Garfield" once again proved why many, including me, loved his version of 'Peter Parker/Spider-Man'. One can feel how effortlessly he can give us such a goofy, young and funny teenager, who is struggling with the right thing to do and what he is actually feeling. This makes us enjoy what he is doing and bringing up to the table. "Emma Stone" further proves her skillfulness, also effortlessly bringing charm, charisma and strength to her performance. Including her more in the sequences and giving her more importance rather than relegating her to a damsel in distress was a right call from the part of the writers. Just like in the first installment, the genuine and real chemistry that this on-screen/off-screen couple gives us is what surely seals the deal, making all of their scenes a pleasure to watch. The on-top of the bridge scenes is truly one of the highlight scenes of this entire movie. "Jaime Foxx"'s performance was a commendable one, especially seeing that the motive to his demise was bit of a downer. Nevertheless, he is able to lift us the character and give his motive more importance than it might technically have. Still his inclusion allows us to see the great visual effects within the battle scenes between his character and 'Spider-Man'.
"Andrew Garfield" and "Jaime Foxx".
"Andrew Garfield".
Casting "Dane DeHaan" as the elusive 'Harry Osborn' was a very clever choice, from an artistic point of view. The difference from the popular "James Franco" incarnation was necessary for this series tone and narrative direction. His subplot was not the strongest one, but with his skill and great chemistry with "Andrew Garfield", he is able to brilliantly pull it off. Hopefully more development will be brought on in future movies. "Paul Giamatti" as 'Rhino' was fun to watch, since his sequences were entertaining. And his short inclusion was the right idea in order not to over-stuff the movie. "Sally Field" performance as always is emotionally and narrative important, and truly she is the unsung hero of this franchise, where her strategic inclusion in the movie was very much appreciated. Many would not recognize the 'comic-book' importance of the characters of "Felicity Jones", "Martin Csokas", "Colme Feore" and "B.J. Novak"; still their inclusion was appreciated from that perspective and in favor of the universe being built. And their performance was suitable to support the continuation of the narration and unfolding of the story. "Chris Cooper" successfully shows us a small insight on who is "Norman Osborn", while "Campbell Scott" and "Embeth Davidtz" portrayal of 'Peter''s father and mother was exciting. "Denis Leary"'s cameo appearance as 'Gwen Stacy''s father was appreciated.


Overall, 'The Amazing Spider-Man 2' is an improvement from its predecessor. It is also a satisfying superhero movie, which many will hope it will lead to an even better third movie and build a solid cinematic universe.
Official 'The Amazing Spider-Man 2' Poster.
-'The Amazing Spider-Man 2' Info:
-
Starring:
Andrew Garfield, Emma Stone, Jaime Foxx, Dane DeHaan, Colm Feore, Paul Giamatti, Felicity Jones, B.J. Novak, Chris Cooper, Marton Csokas, Campbell Scott, Embeth Davidtz, Denis Leary and Sally Fields.
-
Based on:
'
Spider-Man
' by Stan Lee and Steve Ditko.
-
Studio(s):
Colombia Pictures and Marvel Entertainment.
-
Directed by:
Marc Webb.
-
Screenplay by:
Alex Kurtzman, Roberto Orci and Jeff Pinkner.
-
Music by:
Hans Zimmer.
-
Running Time:
142 minutes.
-
Budget:
$ 200,000,000.
-
Box Office:
-Domestic(US): $ 202,853,933.
-Foreign: $ 505,411,011.
-
Ratings:
-IMdb: 7.6/10.
-Rotten Tomatoes: 54%.
-Metacritic: 53%.
-PERSONAL RATING: 8.5/10.
-'The Amazing Spider-Man 2' Trailer: